Ravi Series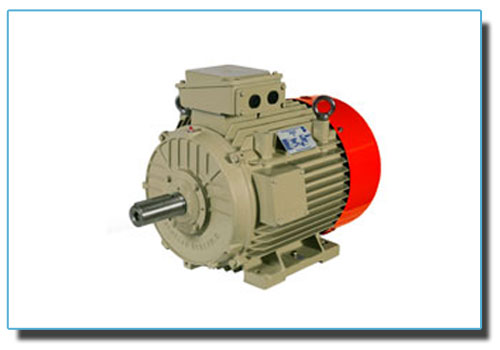 ---
Product Description
Operating & Supply Conditions
| FEATURES | VALUES/ STANDARDS |
| --- | --- |
| Ambient Temperature | -10 to +50°C |
| Altitude | Not exceeding 1000mtrs above mean sea level. |
| Atmosphere | Non corrosive & non hazardous |
| Relative Humidity | Up to 100% |
| Voltage | 415V±10% , 3 ph. |
| Frequency | 50Hz ±5% |
| Combined Variation | 10% |
| Duty | S1 (continuous) |
| Service factor | 1.0 |
Execution & Features
FEATURES
VALUES/ STANDARDS
Starting
DOL for all Or Star delta for frames 100 & above.
Permissible starts/hr
2 Hot / 3 Cold / 4 Equally spread
Loading at reduced volts
75% Rated volts for 5 minutes
Insulation / temp.rise
Class 'F'/70 deg C
Direction of rotation
Bi-Directional
No. Of leads
3 up to 90 frame & 6 for including and above 100 frame
Connection
Star up to 90 frame and , Delta including and above 100 frame
Degree of protection
IP55, IP 66 on request.
Method of cooling
IC 411
T.box position
Top TB Standard and side TB – optional ( RHS from DE)
Bearing life

40,000 hours for direct drive, 20,000 hours for belt drive

Vibration
Normal class as per IS 12075
Noise
As per IS 12065.
Construction
Foot, 'B' flange, 'C' flange, Foot cum 'B' flange , Foot cum 'C' flange
Frame sizes
Ravi series 63-315
Mounting arrangement
Multiple mounting holes in same body, S/M/L as per standard
Shaft extension
Single cylindrical extension as per IS 1231
Body material
CI from 63-315 frame
T.box material
Nylon Up to 132 frame /sheet metal 160 frame and above
Fan material
Polypropylene up to 225frame/ 250 and above fabricated steel
Accessories

Nil, Thermistor, space heater, winding RTD, BTD on request in select frames.
Paint & shade
Standard Motor
Main body: Shade RAL 1020
Fan cover: Shade 592 of IS 5 International orange
Bearing type and
Greasing facility
Sealed Bearings grease lubricated for life up to 225 frame and open bearings with online greasing facility in 250 and above frames.