Helical-Inline Aluminum (P Series)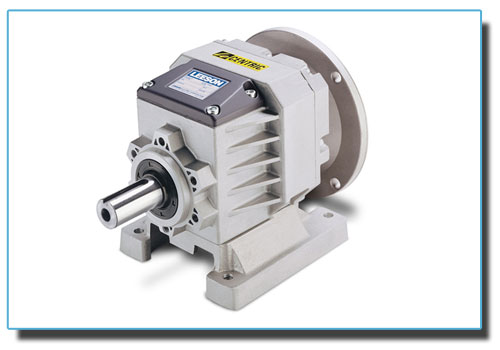 ---
Product Description
LeCENTRIC helical-inline gear reducers offer unsurpassed advantages in terms of weight, efficiency and interchangeability. The aluminum reducers are loaded with long life features industrial equipment users have come to expect. LeCENTRIC™ offers a modular construction, which allows for the in-field addition of a specific base or flange needed to make LeCENTRIC™ a bolt-in replacement for dozens of popular reducer brands.
Specification
4 sizes available with ratings to 15 HP.
Available in single, double and reductions.
Ratings from 3.5:1 to 280:1.
Standard Features
Single-piece aluminum alloy housing vacuum impregnated with Resinol RT (MILSTD 276) for protection and sealing.
Factory-filled with premium Mobil Glygoyle 460 polyalkalene glycol lubricant.
Premium Viton® seal provide extra protection against entry of contaminants or loss of lubrication. Tandem seals available on input and output.
Oversized ball bearings on both input and output shafts.
Bearing spans optimized to allow for maximum overhung load capacity, enhanced durability and reliability—while minimizing shaft deflection.
All gearing is hardened and ground (AGMA Class 10 or better), for enhanced efficiency and noise reduction. Double reduction units are 96 – 97% efficient.
Removable inspection cover allows periodic inspection of gearing during routine maintenance.
Robust output shaft of high strength steel alloy for superior torque and overhung load capacities.
Permanently marked nameplate with output torque, ratio and maximum input horsepower.
Wide selection of accessory bases and flanges.
Mounting dimensions are interchangeable with many popular reducers.
Integral mounting bases and output flanges designed to interchange integral output flange also available to allow interchange with many industry standard sizes.
Available pre-assembled with LEESON or Lincoln Motors for the perfect GEAR+MOTOR™ package.