Flame Proof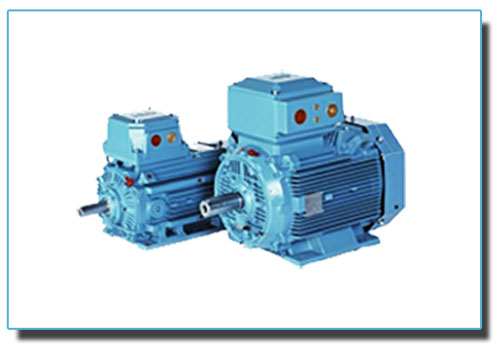 ---
Product Description
The use of electrical motors in potentially explosive atmospheres is quite frequent these days. These motors have to be constructed in such a way that there is no risk of an explosion. An Explosion occurs when the following situations occur:
Presence of potentially explosive atmosphere
Existence of a source of ignition
Possibility of transmission of the explosion

ABB motors of flame proof design (type JHX) are TEFC, 3 phase squirrel cage induction motor (as per IS:2148 – 2004) for operation in hazardous location classified as Zone 1 and Zone 2 areas as per IS:5572.
Type : JHX Series
Output : 0.25 to 15 KW
Frame : JHX 71 TO JHX 160
Poles : 2….8
Highest efficiency class
Suitable for 50 C ambient temperature for rugged environment
Cast iron construction for high structural strength
Inner bearing cover on driving side restricts axial play
Reliable, efficient & cost effective for various industrial Applications
Low noise
Reduced downtime
Reduced energy bill
High resistance to abnormal operating conditions
High tolerance to thermal stresses from frequent starts
Eco – friendly operation for limiting carbon emissions
High efficiency levels save energy, enable cooler motor running for extended bearingand winding lifetime